Today's post is geared for new commercial clients, particularly those with a tight project budget.
Photography is a very interesting art form thanks to its additional components of science and problem solving. For commercial photography, maximizing effectiveness, value, and delivery time is achieved by choosing the right tools and parameters for the job. Smart trade-offs can yield budget rewards for targeted uses.
With digital photography, just as with chemical/film photography, our goal is to create images as close to our desired, finished product as feasible at the image acquisition stage. Feasible is the key word, because some images can be created 100% in camera though at possibly 5 times or 10 times the effort compared to getting it close and finishing the image in post. With digital, just as with film, there is often a "darkroom" aspect to finishinging photos. We call this post production or post processing.
A prospective client recently asked me about the practical value of post production for apparel product photography. The following chart gives a real life example, to some, the difference may be very subtle -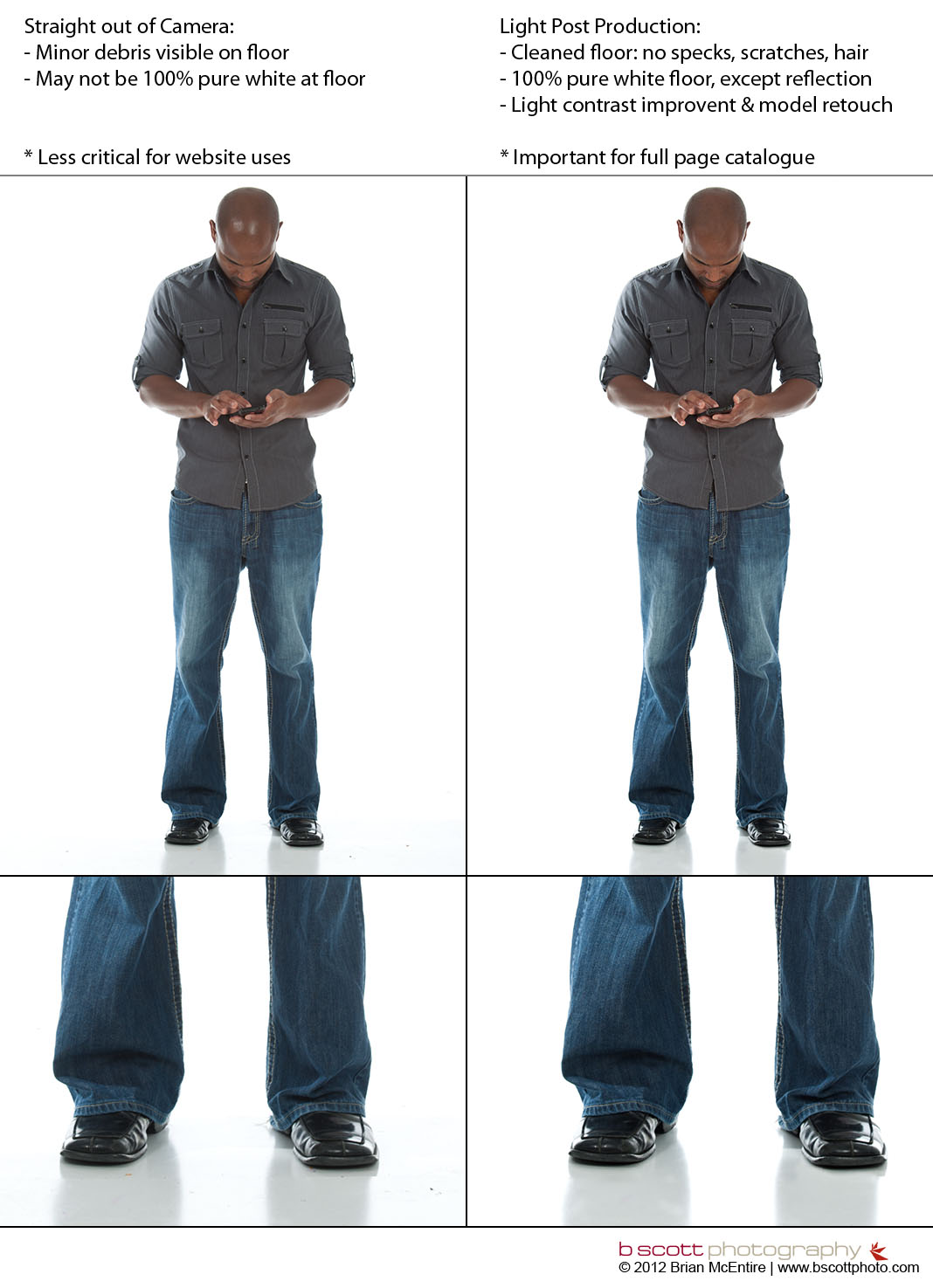 The studio here at B Scott Photography was purpose built for large product isolations, including apparel photography for websites and catalogs. A white, reflective, epoxy and polyethylene floor and white walls combined with studio lighting create the seamless / infinity wall / pure white look. Depending on the scope of the project, or the intended use, the images SOOC (straight out of the camera) may be perfect for the targeted use. However, as a full page catalog print, billboard advertisement, and other large scale formats, post processing is needed.
Clients with an in-house graphic designer or specific targeted uses may not require post production. If desired, light post production can often contribute only a small amount to the bottom line of a project. I hope this post will be helpful when we're outlining our next commercial project together!