I have always wanted to do a shoot in the rain! My camera is water proof right? Well, weather sealed anyway. Pro cameras are built to take a beating, and rain is probably one of the gentler things we can throw at them… so why not? I've often visualized the dramatic potential of a wedding in the rain. I'm not going to wish this on any bride, though I might put a model up to it.  :)
Well, along came Josh and Keri who recently got engaged. The mother of the groom gave them an engagement photo session as a present and she warned they were a little camera shy. I explained that would be no problem; one of a photographer's most important jobs is to put people at ease and make them feel comfortable in front of the camera.
Josh and Keri were great to work with! They were easy going, beautiful and handsome. We hit it off right from the start. We planned to shoot in the studio and then move to a downtown Frederick location around Carroll Creek Linear Park. Carroll Creek offers a ton of photo ops at all times of day and, it turns out, in all types of weather!
After several rain outs, I asked if they'd want to try shooting in the rain if the weather didn't cooperate during our next scheduled session. I mentioned this was something I'd always looked forward to. Josh and Keri talked it over and came back with a definite "Yes!" They liked the idea and they were game.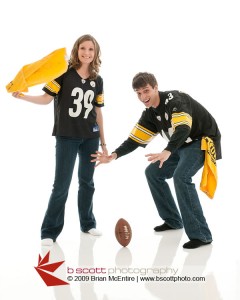 I'm so glad they did! I love the photos we made that rainy day. The rain sets an authentic mood, and doesn't seem drab at all. To the contrary it adds to the "in this together" feel of their images.
Did I mention they are Steelers fans? They even brought their Terrible Towels to the studio! We had some fun being silly too…
As it turns out, this is not the first time Mother Nature has thrown some interesting weather my way. Sometimes, as in the studio, photography is about complete control over every minor detail. Other times, photography is about ordering chaos: harnessing whatever the elements, your location, and situations throw at you to produce visually impactful images.  Can you tell I enjoy both?  :)